Switzerland: Olfaction research to communicate with disabled
Olfactory stimulation as a communication tool with children with multiple handicap.
Children with profound intellectual and multiple disabilities are severely affected in their development as they present multifold impairments such as motor and cognitive disabilities associated with sensory disabilities (blindness or vision impairment occurs in 40% of cases). They have very limited or no autonomy and are most often taken care of in specialised institutions.
Founded in Geneva in 1975, Clair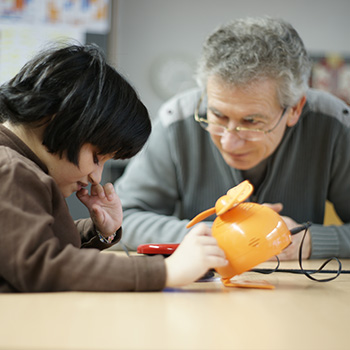 Bois is an institution dedicated to the care and education of children and adults with such disabilities. For several years, Givaudan has created and provided scented tablets to stimulate the children who live and attend school at Clair Bois. 
These tablets are a tool highly appreciated by the educators and therapists as they facilitate communication and interactions with children whose language and cognitive capacities are severely affected. For instance, a chlorine-scented tablet evokes swimming pool activities much more powerfully than any words or pictures.
The PolyOlf research project supported by the Givaudan Foundation arose from the desire to further explore and validate what was observed empirically. It aims to evaluate in scientific manner the olfactory function of these children and expand the understanding of the potential benefits of the use of scents to interact with them.
With the consent of their parents and the agreement of an ethical committee, about 25 children participated in a study conducted by researchers in Special Needs Education of University of Fribourg in Switzerland and their response to a range of selected scents is currently being evaluated.
In 2018, a pilot study that included five children was conducted to refine the experimental protocol. It confirmed the relevance of the approach, paving the way for the full study which started in 2019 and concluded in June 2022. The results, which show that participants make a clear distinction between odorous and neutral conditions, between food and non-food, and between pleasant and unpleasant smells will help specialized institutions to explore new communication methods with children with profound intellectual and multiple disabilities.
"I am very proud to be part of this project and it is very rewarding. I have the feeling that through our expertise in perfumes and scents we contribute to develop a new language that can bring invaluable benefits to these children."

Laurie, Givaudan employee
"I am really touched to see the efforts that are being made to better understand our children so they can be cared for even better in the future."

Natalia, mother of a child participating to the programme
Find out more about our health projects in communities where Givaudan employees work: