Indonesia: School libraries to nurture love of reading
Using school libraries to encourage reading and tackle illiteracy in Indonesian rural farming communities.
The livelihoods of farmers in Indonesian communities are affected by a number of external factors, including the variations of weather conditions and the uncertainties inherent to the crops they grow. Another key challenge they face in order to ensure long-term prospects for the communities is to provide their children and youth with a solid education that will enable the next generations to pursue and further develop their parent's economic activity. The knowledge and skills the children obtain while growing up form the foundation on which they can build their future livelihoods.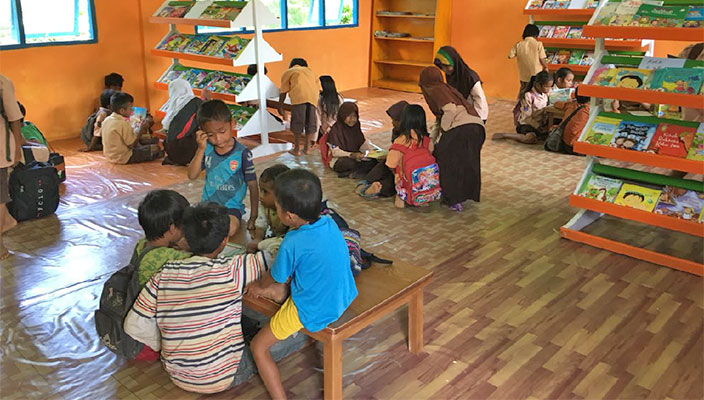 On the island of Sulawesi, smallholders are producing patchouli, a key natural perfumery ingredients. In the production areas, one obstacle to quality primary education is that many children do not have access to books. This keeps them from developing a practice of reading and thereby building their language skills. To help children develop a love and routine of reading, we started to establish school libraries at primary schools in 2018.
The project is conducted in partnership with the local non-governmental organisation Taman Bacaan Pelangi (Rainbow Reading Gardens). It consists of establishing school libraries and equipping them with books as well as training teachers in managing the libraries and conducting reading activities.
By the end of 2021, five such libraries and one classroom-based reading corner had been opened, benefitting more than 1000 school children.
 "We let the kids visit the library and every day they don't want to leave. We even have to tell them to go home!"

Ms. Rahmania, School Principal in Katoi
Find out more about our education projects in communities where Givaudan sources natural ingredients: