Egypt: Environmentally responsible agricultural practices in jasmine fields
Protecting precious jasmine in Egypt.
Jasmine is a treasured ingredient for perfumers. The delicate white flower has been a key ingredient of thousands of perfumes for centuries. In Egypt, we have undertaken an initiative with local jasmine farmers to train them in safer and more environmentally sustainable agricultural practices.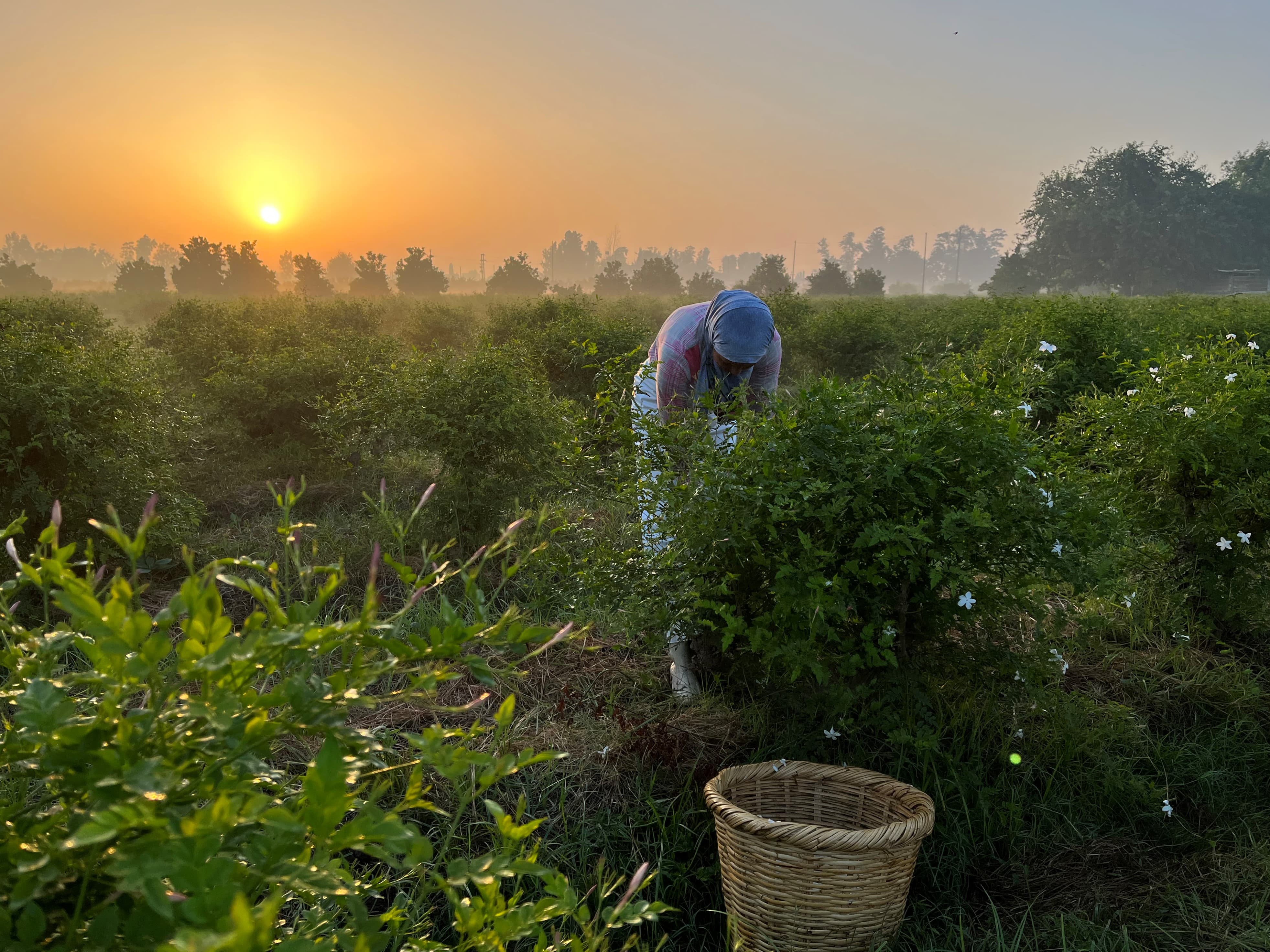 Ensuring safer, healthier practices for local farmers
The Nile Delta region is home to more than 90% of Egypt's jasmine fields. Jasmine grandiflorum blooms for seven months of the year, and provides income for producers and pickers alike. Initiated in 2019, the programme aims to provide practical solutions to local environmental and human challenges associated with jasmine production. Previously, farmers tended to over-use synthetic solutions to address the issue of pests and insects. This led to health risks and soil degradation, with farmers struggling to integrate safe and sustainable plant-protection measures.
Achieving 100% take-up in better farming methods
Since it began, this training programme initiative has introduced 240 producers to sustainable agriculture techniques. Consequently, 100% of these farmers now use organic fertilisers and insect traps, as well as producing their own compost. The programme was developed in partnership with Givaudan's jasmine supplier, together with an organisation specialising in environmental consulting and Fairtrade training. These partnerships also ensure ongoing coaching to jasmine farmers through the presence of technicians in the fields.
In spite of the difficulties and challenges, we have continuously worked as much as possible with the jasmine pickers. Thanks to the training programme, a new link has been created and is facilitating the farmers' change of agricultural practices.

Cherifa, Fakhry & Co jasmine supplier
This is a great example of partnership in action, with all parties focusing on a commitment to positive, long-term changes, to the benefit of Egypt's jasmine-producing communities. This not only preserves natural resources, but also addresses people's health & safety.

Laetitia, Givaudan Foundation
Find out more about our environmental projects in communities where Givaudan sources natural ingredients: