Venezuela: Forest conservation with tonka beans collectors
Protecting natural resources and tonka trees.
Tonka trees are native to Central America and northern South America where they grow in tropical rainforests, in particular in the Caura River basin between Venezuela and Brazil. Tonka bean collection has been a traditional income generating activity for generations of indigenous and criollo inhabitants who live a semi nomadic life dedicated to the harvesting of forest products, fishing, hunting and small-scale agriculture. Nowadays, illegal mining, timber extraction, illegal hunting and fishing and agricultural expansion all threaten thebiodiversity and natural resources in this region, weakening the communities who depend on them.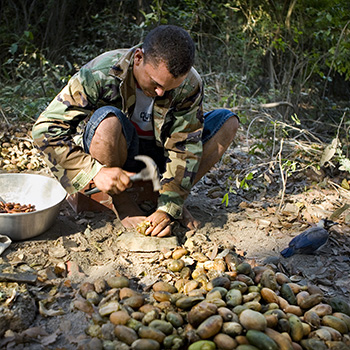 The Givaudan Foundation, through an agreement with Conservation International and subsequently with a venezuelean NGO specialised in environmental conservation, supports a programme aimed at improving local livelihood and protecting the forest in the Caura basin. The local communities are part of a conservation agreement by which they receive support and guidance on techniques for the handling and selling of beans.
In exchange, they commit to actions preserving the flora and the fauna of their ecosystem. They patrol the 150,000 hectares of the conservation area, they control the expansion of the agricultural frontier in the forest. They also survey several animal species that serve as key indicators of the ecosystem's health, such as the American tapir, jaguar, or spectacled caiman.
For some years now, the emphasis is put on reinforcing the community's technical, financial and organisational capacities. Despite the difficult political, social and economic situation in Venezuela, the communities continue to fulfil the conservations commitments, to maintain the existing tonka collection routes and become more autonomous in handling the project activities.
"By building partnerships that bring real benefits to the community, and to the biodiversity of the area, we can ensure that vital conservation activity is enduring in the long term."

Juliette, Conservation International
Find out more about our envrionmental projects in communities where Givaudan sources natural ingredients: